I Offer Coaching, Counseling, Classes, Tips, Tools, and Products to Help YOU Find Solutions, Reduce Pain, and Stress Less!
It's easier to overcome or prevent stress when you understand yourself and what techniques will assist your personal growth. Yet, most of us do not spend a lot of time in introspection, nor do we even know how to understand our lives and beliefs in new ways that will help us be happier, less stressed, and better able to live full lives.
Also known as "My Get Well Guru," I help people gain deep insights into themselves, into personal or work situations, and into possible solutions.
---
Nancy's Greatest Skills and Mission Are…
helping people – from all walks of life – see their own beauty so they can heal and thrive, mentally, emotionally, physically, and spiritually.

---
I serve people of a wide variety of races, religions, and cultures, and I believe in the common ethics which are universally beneficial when applied collectively.
We'll seek what serves the Highest Good for All Concerned as we find ways to reduce stress and pain of all kinds. I'm experienced in being non-judgmental and in providing a safe "space" in which you can share personal or professional information that is private and will be held confidential. That is key to our success in achieving your goals.
In addition, I do NOT need to know everything about you in order to help resolve problems in most instances. You'll get a free initial consultation to see if we're a match or if I should refer you to another practitioner.

 I will find your inner beauty and show it to you!
We all need to learn how to conquer stress, sleep better, and to reduce mental, emotional, spiritual, and physical pain. I have beaucoup certifications, physical techniques, mind techniques (like hypnotherapy and Neuro-linguistic Programming (NLP)), and products, like the truly amazing Healy (see more products below) to help in each area, and I welcome people from a wide variety of racial and cultural backgrounds. 
---
Counseling, Coaching, and Classes
I am a guide whose multi-faceted work experience, education, certifications, volunteer work, and life experiences enable me to assist almost anyone in any circumstance as a personal advisor, teacher, trainer, or spiritual counselor. I've worked with people ranging from corporate CEOs to prisoners in Sing Sing prison and from technology gurus to holistic healers and people who are afraid to use computers. I'm an "honorary member" of multiple ethnic communities.
---
Life Coaching Versus Spiritual Counseling
What is the difference between Life Coaching and Spiritual Counseling? This short video may answer your question. If not, feel free to ask me about it.
Options
We can do our work together through formal plans and contracts in counseling or coaching. Go to the link to learn about the ethics, expectations, and contract options involved. If you prefer to stay on this page, you can get a summary "way below" if you keep scrolling down to the title, "A Few Details." However, comma, dot dot dot … Here's an alternative.
---
Relax | Sip & Share Sessions on Zoom
We could talk in informal meetings on a one-time-only basis or in several "as-needed" appointments on Zoom or other online platforms. I call those, "Sip & Share" sessions. They are designed to help you solve problems, to "vent," or to learn ways in which to stress less and/or reduce the focus on your physical or emotional pain. Sip & Share sessions also are a great place in which to use me as a "sounding board" for an idea, whether that relates to your professional or personal life.
If you would like a demonstration (remotely), email me at GetWellStayWell@Outlook.com and put "Request for Free First Sip & Share Session" in the subject line, so your email won't get lost in the hundreds I receive.
---
Classes – Business, Personal, and Spiritual Growth
There is so much that I could say about the many classes that I teach (in person and some online) that I created an entire page just to cover the bare basics. Here is the link.
The classes by My Get Well Guru are mostly about metaphysics, holistic healing, meditation, and other related topics, but also can include things that wellness-oriented entrepreneurs need to know. I can offer the same classes to groups or to individuals.
In addition to their educational value, the focus of all of them is stress reduction. Whether you need help finding a job, starting a business, overcoming a health issue, resolving emotional traumas, or you just want to learn to meditate, you will feel more at ease with the subject after taking these classes.
Frequently Offered Classes Include Introductions to:
A series on Aging
A series on Self-Care and/or Putting Yourself First for a Change
Envision Enhanced Vision (eyesight and insight) (how emotions affect your vision and what you can do to correct them)
HypnoMeditations
Meditation, Affirmations, and Creative Visualization (Compare & Contrast)
Complementary and Alternative Medicine Techniques (Holistic Healing)
Getting Unstuck (in expressing emotions, writing, or other areas)
How to Start A Business (and things to consider before you do)
How to Find A Job in these tough times


---
My Get Well Guru

 ~ Classes Customized For Your Needs
New classes can be created for your needs in terms of time and content.  Contact me for details. I can develop one for you or for your group. All I need is the topic, how long the class should be, and info about the audience and/or venue. See examples of current classes on my web page.
---
Bonus: I'm an Author who Provides Writing and Editing Services, as well as Teaching, Training, and Public Speaking
My formal company name is My Persuasive Presentations, LLC, and you can learn all about these services by clicking on the link. You can book me as an independent contractor to manage or execute a project, conduct training, or handle writing and editing assignments. I provide these services for holistic healing organizations and also for many other industries – both high-tech and low-tech!
If you would like a demonstration (remotely), email me at MyGetWellGuru@gmail.com. Please put "Request for Free Initial Consultation" and your topic (editing, training, web content, etc.) in the subject line, so your email won't get lost in the hundreds I receive.
---
In summary, I currently am a CHANGE YOUR LIFE trainer, personal Life Coach, writer, editor, and presenter.  My extensive business background in both the private and public sectors, as well as my many holistic healing certifications, form a foundation for the expertise and wisdom I can bring to assist you.
Note: during this pandemic, we can communicate via email,  Zoom, or by telephone, even though I like "in-person" better.
---
Wellness Products and Services Help You Feel Better, Sleep Better, Reduce Pain, and Stress Less
I sell and/or recommend only the very few products which I use consistently for enhanced wellness. Details are below the list of products.
Here's the list.
Healy
The original Sun Ancon Chi Machine
Sleep Like a Baby, Guided Meditation, by Nancy Wyatt. (MP3 versions are on Amazon and Spotify, + more. People may buy CDs directly from me. It has helped many people for many years, but it is not the only sleep aid I can offer you.
HypnoMeditations that are off-the-shelf, or I customize them for you.
Nancy's Novelty Photos on Pixels Products
Nancy's Novelty Infographics for event coordinators, trainers, presenters, hosts of online and in-person meetings
Reiki or other Distance (Remote) Healing sessions
Life Coaching – by contract for agreed-upon, specified time and goals
Spiritual Counseling – on an individual or multiple sessions basis.
Writing/Editing Services – by the hour or under a retainer agreement
Public Speaking and performance of scripts from the book I authored, Three Hots and a Cot, Stories of Courage from People Struggling with Homelessness, Addiction, and AIDS.
I recommend other products that I do not sell, but that you can find easily online or in health or grocery stores.
In some cases, I primarily offer treatments with most of these health items. However, you also can buy any and all of the products that I use and sell. Keep scrolling for details.
---
The Healy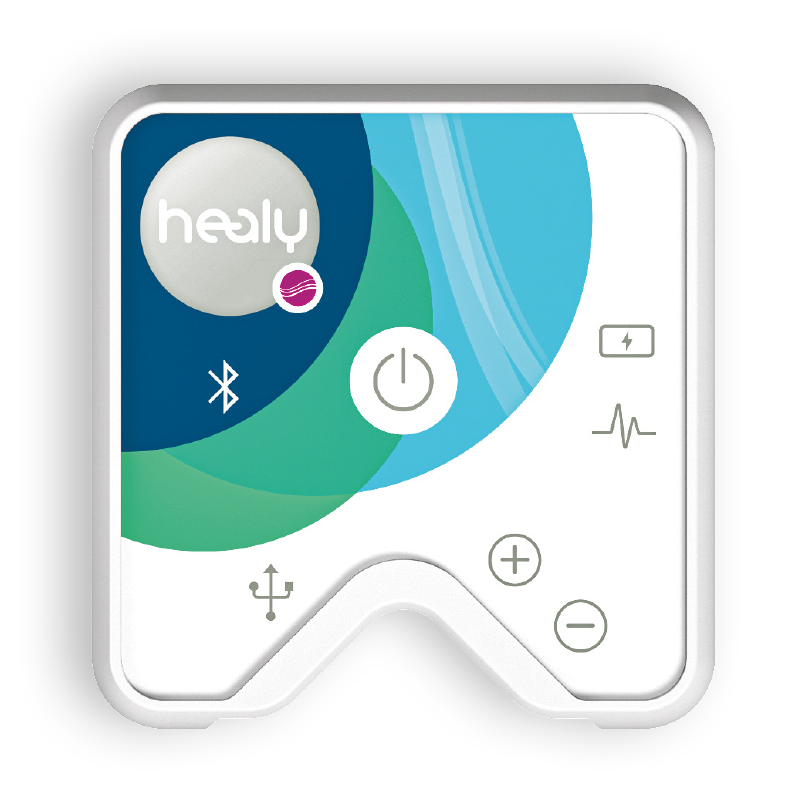 Soon, I'll be providing remote treatments for addressing physical, emotional, mental, and spiritual pain using a device called, the Healy, which uses a biofeedback system to determine what microcurrent frequencies are needed for attunement. Healy is a microcurrent device that is cleared by the FDA as a Class II medical device for relief of chronic & arthritis pain. It has many additional uses and up to 144,000 frequencies. To learn about its AMAZING capabilities, Click Here.
Practitioners use microcurrent technology to treat nerve and muscle pain, inflammation, and other health challenges.
How Does Microcurrent Therapy Work to Relieve Pain and Stress?
Every cell, tissue, and organ in the body has its own specific electrical frequency. These healthy signals may be disrupted by injury or disease. Microcurrent therapy simply restores normal frequencies within the cells, resulting in remarkable improvements in pain, inflammation, and function.
At the cellular level, microcurrent therapy stimulates a dramatic increase in ATP. ATP is what we call the energy that fuels all biochemical functions in the body. It also enhances protein synthesis, which is necessary for tissue repair. When that happens, the increase in blood flow and the decrease in inflammation translates into reductions in pain and muscle spasms, as well as increased range of motion.
I have used what I call "sound wave energy" healing tools for many years. The Healy simply provides a newer, more effective way in which to help the body heal itself. Stay tuned for details in 2021.
---
for aerobic exercise and full-body/organ massage.
The Chi Machine is one of the three greatest wellness products I've ever found in my 30+ years of being a holistic healing practitioner!
Aerobically speaking, fifteen (15) minutes on the chi machine = 10,000 steps!
Five minutes on this machine is equal to a half-hour walk!
It is the original Sun Ancon "Chi Machine®" – Aerobic Exerciser, designated a Class I medical device by the FDA. and sold by HTE Americas.
It is GREAT for people who cannot or will not exercise … not to mention any names, of course! It's also a great gift for the person "who has everything," and you struggle to give them something they'll appreciate more and more as they use it.
This is a picture of the Sun Ancon (original) aerobic exerciser ("Chi Machine") (Five minutes on the chi machine is equivalent to a thirty-minute walk! 15 minutes is equal to 10,000 steps, aerobically-speaking!) "As seen on The Doctors, etc…" For me, it is this great: "If I had an evacuation emergency, I would take my cats, my credit cards, and my chi machine!" Learn More!
---
Some of my recommendations are goods and services that other people sell, and a few are inexpensive products you can find at a grocery store! One of my favorites is a specific kind of clay that you can use internally and externally to resolve a huge range of physical symptoms. I don't sell it. I buy it.
This website offers a variety of blogs about achieving wellness and stress reduction without using pharmaceuticals. I do not sell most of the products or services mentioned. However, I blog about them because they are found to be beneficial for almost everyone. Examples include multiple uses for castor oil and honey. You'll be amazed!
---
Nancy's Novelty Photos On Pixels Products
I sell a wide variety (over 400 images) of Nancy's Novelty Photos on Pixels Products (owned by Fine Art America) with themes from flowers to sports and from activism to seasons and holidays of the year.  Over 400 images from Nancy's Novelty Photos on Pixels products are on mugs, tote bags, cell phone covers and chargers, clothing (men, women, kids), home décor (throw pillows, duvet covers, shower curtains, beach and bath towels, + wall art), facemasks, yoga mats, & more. Here's a sample featuring a swan and exuding serenity. http://ow.ly/UZAZ50CEb8Q
---
Nancy's Novelty Infographics Only Help Relieve Stress in Presentations. They Also Add a Lot of Class or Humor!
I create and sell inexpensive  Nancy's Novelty Infographics for presenters and event coordinators to use for conferences, retreats, training, and other sessions, whether online or in-person. There are many themes with common messages facilitators need for meetings. You also may request customized versions (at a correspondingly higher price, of course.)
---
My Get Well Guru's ~ Sleep Like A Baby Guided Meditation
This meditation is so effective that the sound engineer fell asleep in the middle of our recording session. Insufficient sleep contributes, not only to car wrecks, but to health challenges, like Alzheimer's, diabetes, heart disease, and more. Adequate sleep is very important for EVERYONE.
The Sleep Like A Baby meditation is available worldwide on iTunes, Amazon, and on other global outlets in MP3 download format; however, it is best to go to my website. Why?
I sell additional options, with differing background music, and different formats of better quality.  MP3, wav, and CD options are available at My Persuasive Presentations, LLC. (In case you didn't know, wav files provide much better sound quality than MP3. MP3 is what you get on iTunes, Amazon, Spotify, etc. That's why I provide wav files on my website for the same price.)
Click here to get more details and to take advantage of more purchase options.  I assure you – IT WORKS!
---
My Get Well Guru Services
Reiki Distance Healing Sessions
Pandemic Special 2020 ~ April 2021
$15 for 15 minutes + Other Options
Reiki distance healing uses the energies that pervade all living things and works at the causal level or soul level. Because of the financial hardships and the stress associated with this pandemic, I am offering specially reduced prices: $15 for 15 minutes, ending on April 31, 2021.
Go to my Reiki Distance Healing Page to book me or email me at GetWellStayWell@outlook.com and put "Request Distance Healing" in the subject line. We can have a short FREE initial consultation before you book me, if you would like. In that conversation, you would tell me if you have specific issues on which you would like me to focus.
---
~ A Few Details ~
Counseling
By this, I do not mean religious counseling, but rather, guidance in resolving "Real Life Issues" while maintaining spiritual and ethical integrity in relation to others and to the Self. If you prefer, we investigate the causes of problems and learn methods of stress reduction.
Coaching
In Life Coaching, we are less interested in WHY there is an issue than we are in HOW TO FIX IT. In any of my programs, we'll explore creative options for change that will enhance health in body, mind, spirit, and emotions. I can train you on some techniques to enhance your well-being without your needing to engage a professional practitioner for help.
---
Coaching Ethics and Principles
The principles/ethics are universal, regardless of whether one believes in a specific religion.  Click Here to learn much more about Life Coach services. Under these links, you also will find the applicable Code of Ethics, what a Life Coaching Agreement involves, and What to Expect from a Life Coach.
---
My Get Well Guru ~ Transpersonal Hypnotherapy and HypnoMeditations Help You De-Stress
My Get Well Guru does not claim to diagnose or to heal any illnesses (physical or emotional). I am not a physician, and I hereby refer you to your health care providers for medical assistance. The Hypnotherapy and HypnoMeditation sessions are designed to help you make constructive changes in your thinking and belief systems. We do this in a safe, non-judgmental, and often fun way! You choose the topics and methods in advance. Click here for details about these sessions, which I prefer to conduct in person. Some recordings may be purchased in downloadable formats.
The focus could be related to many subjects, e.g.: Abundance and Right Work, Enhancing Vision, Weight Loss, releasing fears, phobias, limiting beliefs, PTSD, feeling stuck, etc. The HypnoMeditations can be "off the shelf" or customized for individuals.
Each is designed to help a person figure out how to go over, under through, or around issues that are blocking beauty and progress in life. Another objective is to find the causes of and then to release stress.
In most cases, the person finds some peaceful moments and ways in which to stress less, on an on-going basis, before they leave.
Here is the link to a video I created to explain how the mind, Subconscious, Unconscious, and brain work in connection with Hypnotherapy, NLP, and Meditation. Note: it is about 20 minutes long and is something you would watch before you come to see me once we have booked a Hypnotherapy or NLP session.
---
---
My Get Well Guru ~ Writing, Editing, Training, and Presentation Services
(My Persuasive Presentations, LLC)
Feel free to visit https://www.mypersuasivepresentations.com, where I describe many of my writing and editing services. I do this for both holistic healing/wellness companies and for "regular" organizations and individuals.
In addition to things like business plans, policies, and procedures, blogs, books, etc. I do wellness-related items, like customized meditations, personal correspondence, resume packages, proposals for wellness projects.
I can write and present in many styles. Just tell me what you need, and we'll see how I may help. Check out this short video about my services. 
Click Here to see testimonials on my writing/editing company website.
---
Who and What Can Be Helped by
My Get Well Guru Products, Services, and Classes?

I have assisted people, plants, animals, and more … I even used it on a copy machine once! You laugh, but it worked!
I teach a workshop about how and why holistic healing modalities can work on almost anything and everything.
The class includes scientific, ethical, and esoteric information.
I teach another workshop about the differences among Affirmations, Creative Visualization, and Meditation. Contact me to schedule a presentation.
On the other hand, you don't have to buy anything from me to learn more. Visit my Facebook page for My Get Well Guru to see all kinds of tips, tricks, and articles from people who know how to help us get well and stay well naturally. Here's the link. My Get Well Guru on Facebook
---
Author
I also am the author of Three Hots and a Cot, Stories of Courage from People Struggling with Homelessness, Addiction, and AIDS. Here is the link to my Amazon Author's Page where I hope to publish more books on subjects pertinent to wellness and meditation. Click Here to get: signed copies, bulk discounts, and the playbook.
Scripts, Performing Arts, Biographies, and Business Classes or Documents
A Book About Homelessness, Addiction, AIDS
The origins of my book derived from my assisting homeless people and people with AIDS or addictions by using a variety of holistic wellness techniques, ranging from meditation to Reiki and the use of natural remedies.  I did this as President/ Writer/ Producer/ and Director of Variety Pack, a non-profit, serving people in  Washington, D.C.   These folks were homeless, drug-addicted, HIV+, sexually abused, and/or suffered from Post Traumatic Stress Disorder (PTSD).  Among them were Veterans of various wars.  I was blessed with many service recognition awards for this work and additional services.  Examples can be found on my About page.
---
This website offers a variety of blogs about achieving wellness and stress reduction without using pharmaceuticals. I do not sell most of the products or services mentioned. I blog about them because they are found to be beneficial for almost everyone.
---
Wellness and Stress Reduction Modalities ~ Certifications
Business
First, here is the certificate of the founding of my business, My Persuasive Presentations, LLC.  Click on the link to see it "great big!"  Certificate of Filing MyPP 1301225549
Personal
Here is a sampling of my accreditations in non-pharmaceutical wellness techniques and metaphysics.
I have many certifications. To see the rest, Click Here.
---
My Get Well Guru ~ Newsletter for "Health Nuts"
(You don't have to be one (a "Health Nut") to enjoy the tips and tricks in the newsletter.)
My Get Well Guru (Nancy) issued a newsletter for "Health Nuts" about once a month, for two years. The topics are timeless, and you are encouraged to subscribe to some or all. They covered all kinds of unusual aspects of health and wellness modalities. Some newsletters include information about discounts on services for their readers. If you show me that you have one of those, I'll still honor the discount! Note: we do not share your contact information with anyone else!
---
Comments or Questions?
If you send a question or comment, and the communication should be "just between us," we can correspond through email (GetWellStayWell@Outlook.com or MyGetWellGuru@gmail.com. Just put Get Well Inquiry in the subject line. You also should feel free to leave a voicemail (no texts) at  1-540-636-4311 (Eastern time) in the USA.
Let's GetWell, Stay Well, and Live Well!